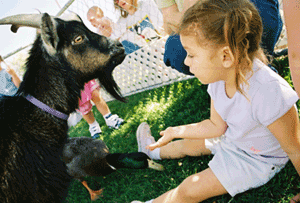 Happily serving Las Vegas, Henderson, and Boulder City since 1997. We have a collection of cute and cuddly critters for any occasion.

Our animals make any gathering memorable! Seeing live animals makes a lasting impression and nurtures an empathetic attitude. Our staff is professional, uniformed, neat and courteous. We are licensed, insured and meet or exceed all the requirements of the Animal Welfare Act.

We are dedicated to improving the lives of shut-ins, handicapped or terminally ill people. If you know of someone who fits into these categories and whose spirit would be lifted by a visit from a special animal please contact us for arrangements.

Petting Zoo 2 U is proud to be the first federally licensed petting zoo in Southern Nevada.
We are currently proud members of the:
In the end:
We will conserve only what we love;
We will love only what we understand;
And we will understand only what we are taught.

-Baba Didum (Senegal)